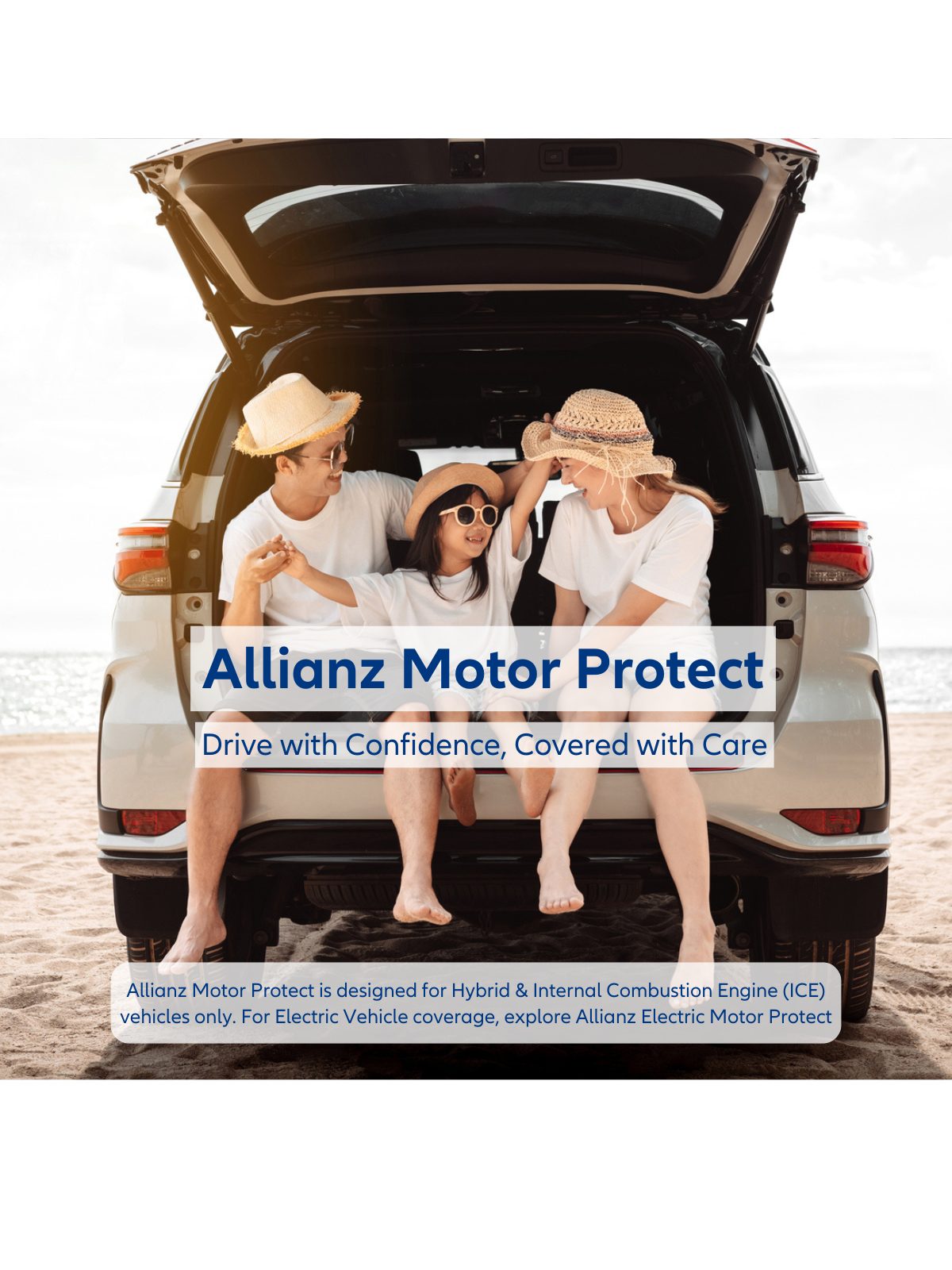 Allianz Motor Protect
We expect even the unexpected to keep your worries at bay
Take charge of your car insurance
with Allianz Motor Protect
Lifetime Warranty
On Repairs
so you can be worry-free on repairs - even if it means having to rectify workmanship defects.
Complimentary
Courtesy Car
at your disposal for each day your vehicle is being repaired in the workshop.
"New For Old"
Replacement Car
if your car is less than 2 years old and damaged beyond repair.
Complimentary 24/7 Roadside Assistance
For both accident and breakdown to ensure that you are well taken care of.



 
So you can choose the excess to pay in the event of a claim.



 
Coverage/Benefits Schedule
Third-Party Fire And Theft Only
Loss Or Damage To Car By Fire And Theft Only
Death Or Injury To Third-party
Unlimited Windscreen Cover
Optional Cover With Additional Premium
¹ Customer can only claim one of either "Courtesy Car benefit" or "Daily Transport Allowance benefit" (if applicable)
Take charge of your car insurance
with Allianz Motor Protect
More about Allianz Motor Protect
The Insured Person must be:
Holding a valid Singapore identification document such as a Singapore NRIC, Employment Pass, Work Permit, Long Term Visit Pass, Student Pass, Dependent's Pass, or other recognised work pass entitling the holder thereof to remain, or enter and remain, in Singapore; and
Holding a valid driver's license.
Can I purchase Allianz Motor Protect if I am not a Singaporean?
Yes you can, as long as your car is legally registered in Singapore under the relevant Singapore Road Traffic Act.

In which countries am I insured to drive?
Singapore, West Malaysia, and Thailand (within 80km of the border of Malaysia).

Who should I contact in case of an emergency?
In case of emergency, Allianz helpline is available 24/7 at 1800 222 1818 (Toll-free).

Can No Claim Discount (NCD) be transferrable?
No, NCD is not transferrable to another person except to your spouse, provided your spouse is purchasing a new Allianz Motor Protect plan with Allianz. This is a one-time transfer and it is non-reversible. After the transfer, your NCD for your existing motor insurance policy will become 0%.

How does the Lifetime Guarantee for accident repairs work?
For any defective workmanship in your accident repairs done by any of Allianz's authorized workshops, you may proceed back to the same authorized workshop for repairs for as long as you are insured with Allianz.

How does 24 months New for Old Replacement car work?
In the event that your car is damaged beyond repair within the first 24 months of its first registration in Singapore, Allianz will at their option:
a. Replace it with a new car of the same make, model, and engine capacity as your car; or
b. If a new car of the same make, model and engine capacity is not available, replace it with a new car of a
    similar make, model, and engine capacity as your car; or
c. Pay such cash equivalent in lieu of points (a) and (b) immediately above.
For more information kindly download.
Allianz Motor Protect Policy is underwritten by Allianz Insurance Singapore Pte. Ltd. (Allianz).
The above information is for reference only. If you are unsure if this product is suitable for you, we strongly encourage you to speak to a qualified insurance adviser. Otherwise, you may end up buying a plan that does not meet your financial expectations or needs. 
The Policy may contain terms and conditions which are not detailed in the above. Should there be any discrepancy between the information contained in the above and the terms of the Policy, the terms of the Policy shall prevail. For exact terms and conditions and details of the exclusions, please refer to the Policy Wording or contact Allianz.
You give consent to Allianz and its affiliates, third party service providers, related entities and business partners as well as their and its respective representatives and/or agents, may collect, use and disclose personal data related to you and other individuals provided by you for purposes including but not limited to underwriting, processing and administering any policy and/or claim, due diligence, renewals, audit, compliance, data storage, and providing general information about our products and services, and general communication with you, digitally or otherwise.
This Policy is protected under the Policy Owners' Protection Scheme, which is administered by the Singapore Deposit Insurance Corporation (SDIC). Coverage for your policy is automatic and no further action is required from you. For more information on the types of benefits that are covered under the scheme as well as the limits of coverage, where applicable, please visit the GIA or the SDIC websites (www.gia.org.sg or www.sdic.org.sg).
This advertisement has not been reviewed by the Monetary Authority of Singapore. 
Information is accurate as at August 2020.
Need more information or individual support?